Stir-frying method/tips
One time a special friend comes over to our house and when we prepared a meal for us in church, he asked about the method the food was cooked. He liked it that he ate so much. Our cuisine is not complete without it, stir-frying. Here is a good method and tip: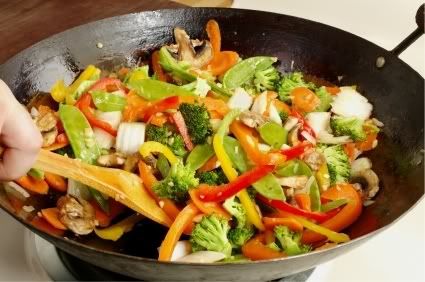 To stir-fry is to put the ingredients into a very hot wok over high heat and turn over and over until done. Stir-frying is a very quick process. And because of that, I prepare all the sauces in advance, including the cornstarch and water used to thicken the final sauce.
When several kinds of ingredients are used in cooking, the difference in tenderness of each ingredient will sometimes require that material be cooked in oil, boiled, or fried before mixing. Whichever the method is used, the ingredient must be precooked until tender.
When the preliminary preparation is finished, heat the wok then add in oil. Add onion, ginger root or garlic and stir until they impart their aroma. Add the ingredients, and a few drops of wine, if desired, to enhance the flavor of the food. Add the sauce and stir-fry until all ingredients are mixed together. The entire process must be short and quick so that the food will not overcook.
At this point you may sprinkle a few drops of oil on the food. This will help to increase the brilliancy of the food and help to keep it warm.
____________________________________________________________________
____________________________________________________________________ Found this article useful? Mention us in your post, subscribe to our feed, link to us, or bookmark this site. Thanks for your support!
Subscribes