Revolutionary 3-in-1 workout program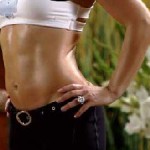 I have been thinking about a lot of things lately, just these past few weeks, to tone. I really want to resume my belly dance lessons, hopefully on one of these days, I hope soon. And aside from that, I have collected different yoga exercises from India. Do you also feel the same about getting or learning something? Because of my improper physical training and discipline, I almost broke a male classmate's neck when I tried to kick him during our 'fun time'. He was one of our high school teachers' sons and I got scared in that moment for had he moved half an inch nearer or I kicked that much farther, we would surely be in trouble. So now I really want to have those physical exercises and training back in the right way, to improve my physique and for good body fitness and to burn excess body fat. I know that taking one lesson here and there would be a bit inconvenient, given our present circumstances here. So I was wondering if we can do it in an 'easy' way?
And I just found out, in the right time, about XFLOWSION and how it would give me three workouts in every one convenient session. Have you heard about it? Xflowsion is a state-of-the-art 3-in-1 exercise program that is designed such that we will burn fat and tone or muscles continuously, while we will have fun from combined shifting dance, yoga and martial arts moves. You see it is perfect for all of us who want to shape our bodies in the non-boring and in an efficient way because we get results in 1/3 the time we would have achieved through separate and expensive workout trainings. Maybe you will say that you have been working out and lose few pounds and that was all, your body can't burn anymore fat keeping you from hitting your weight loss goal. That is called plateau blast, but with XFLOWSION™ by celebrity trainer Eric Paskel, you will sweat, form and shape, and stretch your body from head to toe to total transformation, just like some of the hottest bodies in Hollywood that he trained using this triple training workout program. This is the workout program I have been looking for; you can 'xflowsion' it too!
____________________________________________________________________
____________________________________________________________________ Found this article useful? Mention us in your post, subscribe to our feed, link to us, or bookmark this site. Thanks for your support!
Subscribes